usage
Multi-Technology
Get access to 5G NR and LTE and P25 in the same small device, for the perfect blend of power and portability.
Fast
Via rapid blind survey, we reduce your start-up time to bring you faster measurements. Know the channels you're after? Directed surveys are even faster.
Low Visibility
PRiSM™ mounts magnetically to the back of a phone or tablet, making it the ultimate convenient network survey device.
Easy Setup
PRiSM™ comes with no extra software to install. Simply connect it to your device, open your browser to the IP address, and you're good to go.
Definitive
Use PRiSM™ to decode cell broadcast messages that contain important system information, more easily than ever.
Comprehensive
PRiSM™ scans all carriers and bands—not just the network associated with the host phone or tablet.
benefits
Easy
Integration
The PRiSM™ API allows for easy integration of wireless surveys into your existing overall solution.
BEYOND SMARTPHONE SCANNING
PRiSM™ takes a deep dive into your network environment, going beyond basic apps and putting comprehensive scanning technology right at your fingertips.
SLEEK, DISCREET, PORTABLE
With a weight of less than 6 ounces, PRiSM™ is the final word in convenience and portability. Whether you're in an urban jungle or a remote location, you can harness the power of comprehensive scanning right out of your pocket.
COMPREHENSIVE ANALYSIS
Don't let your host device limit you. Scan all carriers and bands, and get a definitive analysis from cell broadcast messages.
EASY
INTEGRATION
The PRiSM™ API allows for easy integration of wireless surveys into your existing overall solution.
about+demo
WATCH PRiSM™ IN ACTION
Designed with RF specialists in mind, PRiSM integrates seamlessly into existing systems while also offering standalone capabilities. How can Epiq's PRiSM scanner help you monitor LTE and Private Networks? Watch this demo from our partner iBwave Solutions to delve into the nitty-gritty of LTE survey capabilities of the iBwave Mobile app in conjunction with Epiq Solutions' PRiSM scanner.
OTHER PRODUCTS
Looking for more?
PRiSM™ Sensor,
Sidekiq™ Z2
The PRiSM sensor is a pocket-sized accessory based on our smallest RF transceiver/processor, the Sidekiq™ Z2. It connects to a commercial smartphone or tablet via USB-C, making it a convenient, complete cellular network scanner and spectrum analyzer.
LEARN MORE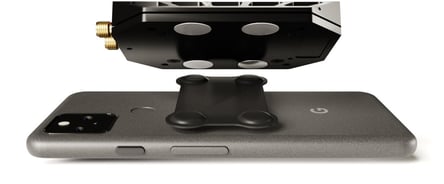 Contact
We'll be happy to answer any questions or tell you more about our tech. Just drop in your details below.